Kinley, Walker and Heidi Winchester are working together this summer. The siblings, who live in Spencerville, built a lemonade stand to raise money for Centennial '67 Public School. The money will go towards a new play structure. 
Heidi says they're getting a lot of support from the community. She noted the lemonade stand has brought in over $300 so far.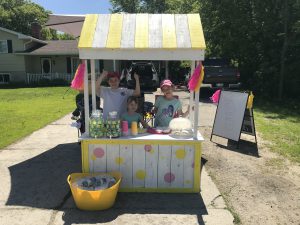 The kids will be set up at the Spencerville Flea Market (Home Hardware parking lot) on Saturday, from 9:00am to 2:00pm. People can drop by and grab a cup of lemonade for $1. All vendor fees from the market will also be going to the school. 
Heidi and Walker noted they're running a guessing game to bring in additional dollars. People can pay $1 to guess how many Smarties are in a jar.
The goal is to have funds in place for the play structure by January.