A March against Injustice is happening in Brockville this Saturday, June sixth.
Organizer Chelsea van Stralen says the march will be from the Brockville Court House to City Hall set to begin at 12:30 pm.
She says black people and people of colour have been discriminated against and oppressed for far too long.
"I'm sure that the vast majority of people are aware that George Floyd was murdered by four police officers on May 25th, in Minneapolis, Minnesota. We will be peacefully marching as a protest to racism, systemic racism, oppression and police brutality."
Van Stralen says the City of Brockville has not yet approved the march as they have a very specific process to approve community events of this magnitude and complexity. She says she's still working with the city and community partners to approve it, and they have asked her to postpone it. Van Stralen says she respects the city and the process but due to the timely sensitivity of this matter, they do need to proceed. She says the march will go on with or without the city's backing.
"I think it's important for the community of Brockville to really take a stand and understand that systemic racism, oppression and social injustice lives here as well. It's important for people to have these conversations to evoke these conversations and ultimately make a change."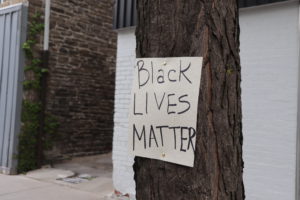 She says the Brockville Police Service have confirmed their attendance at the march to ensure the safety of all participants and control traffic in the area during the event. Van Stralen says she's also invited MPP Steve Clark, MP Michael Barrett, Brockville Mayor Jason Baker and Councillor Leigh Bursey to attend and so far none of them have confirmed their attendance.
Van Stralen says COVID-19 distancing guidelines will be in place including asking participants to wear a mask where possible, use sanitizer that will be provided and remain six feet apart during the march unless you're from the same household. Also, if you have been feeling ill, have a fever or respiratory symptoms the organizer says to not attend.
Van Stralen also says everyone should disperse within 30 minutes after the final marcher reaches city hall. She thanks Staff Sergeant Andrew Harvie for the organization of officers to ensure safety and Laura Bradley from King's Lock Craft Distillery for providing hand sanitizer.