Zac Bowness brought home two gold medals. The Prescott native and St. Michael Catholic High School student went to the Legion Youth National Track and Field Championships earlier this month. It was held in Cape Breton, Nova Scotia. Bowness won gold in the 400m and 4x400m relay.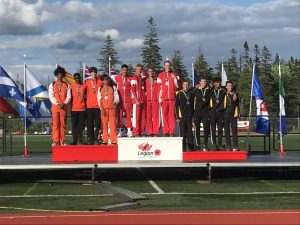 He explained he competed at provincials about a week after returning from Mexico, where he represented Canada at the 2019 North America, Central America and Caribbean Athletic Association U18/U23 Championships. Bowness says he qualified for Team Ontario at the provincial meet. 
He is currently prepping for the SATs, which will position him for athletic scholarships to universities in the United States. Bowness is heading into grade 12 at St. Mike's. 
Bowness says his goal is to qualify for the New Balance Nationals next year. He noted he would have to run the 400m in 47 seconds compete, which would be a personal best.