Update: The Canada flag has been put back up on the flag pole at Prescott's Town Hall.
The Town of Prescott now has a new flag flying at Town Hall.
The town raised the Pride flag in honour of Pride Month Monday night with Mayor Brett Todd, council members, residents as well as other municipality councillors and North Grenville's Deputy Mayor Jim McManaman in attendance.
Todd says it was great to see so many people out and it was a fantastic night to celebrate Pride (Month) and the entire community. Todd says resident Joan Hodge first brought the idea of painting the crosswalk with the rainbow colours up at the end of last summer, but by that point the town had already done the line painting.
He also spoke out against the recent vandalism of the Pride crosswalk at Russel Street and King Street. He says they will not give into the nonsense and beyond the fact that it's an expression of hate, it's vandalism as well.
"It's also (a) safety hazard. Any idiot that's actually revving their tires and burning out like that on such a busy road that's a clear danger as well, so the OPP are taking this very seriously."
Todd says it left a black mark on the crosswalk but not on the community. He also commended Prescott Council for getting behind supporting the project unanimously. Todd added Prescott is never going to give into hate and love is always going to win.
He adds the crosswalk will be repainted and repaired as many times as necessary.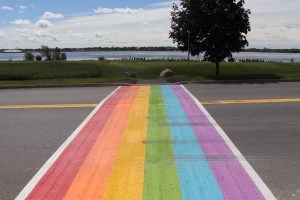 Tire marks left on the Pride crosswalk at Russel Street and King Street in Prescott. (Courtney Crowder, MyPrescottNow.com staff)
Brockville Councillor Leigh Bursey spoke after the flag was raised and said the fact that the town didn't hesitate to do this without prompting speaks volumes about the community and Brockville Pride is proud to stand with Prescott.
MyPrescottNow.com has reached out to Mayor Brett Todd about what happens with the Canadian flag that was taken down when the Pride flag was put up. He has not responded as of the posting of this story.